Australian smart monitoring company UtiliOS is now offering an intuitive, customisable Human-Machine Interface (HMI) to monitor treatment plants and sites with multiple parameters. It allows plant and facility operators to get an overview of their site in one intuitive plant schematic or single-line diagram.
"Having this HMI interface to visualise multiple sensors on a single screen is a game-changer for IoT. If you have the sensors, we can visualise them. Tank levels, pressure, water quality parameters like dissolved oxygen, chlorine, pH or ORP, and pump status and run hours on one easy-to-use page make monitoring a plant or complex site so much easier," says Mark Jeremy, CEO of UtiliOS.
"Remote sites can reduce multiple and often unnecessary site visits. Instead of looking at a whole table of parameters, an operator can readily see all critical parameters for their site immediately. It is just so much more intuitive. Best of all, thanks to UtiliOS's unique design, it works just as seamlessly on the mobile phone as the rest of UtiliOS. It simplifies asset monitoring and maintenance and accelerates troubleshooting. UtiliOS is all about visualising and analysing data to gain meaningful insights to drive corrective actions on the ground, leading to large cost savings and efficiency gains. We are taking the man out of manual monitoring", adds Mark.
The solution draws on UtiliOS' existing, extremely flexible Alarm Configuration Engine (ACE). It allows a set of meaningful alarms in different priority categories for any conceivable condition. Any asset with an alarm will change colour, directly drawing the operator's attention to the asset they need to address.
The following graphic demonstrates UtiliOS' latest feature, its pump running hours and status monitoring module. According to Mark, this is very handy, ensuring pumps are properly cycled between duty & standby, thereby allowing for proactive maintenance planning once a set number of operating hours is reached, instead of waiting until it breaks down.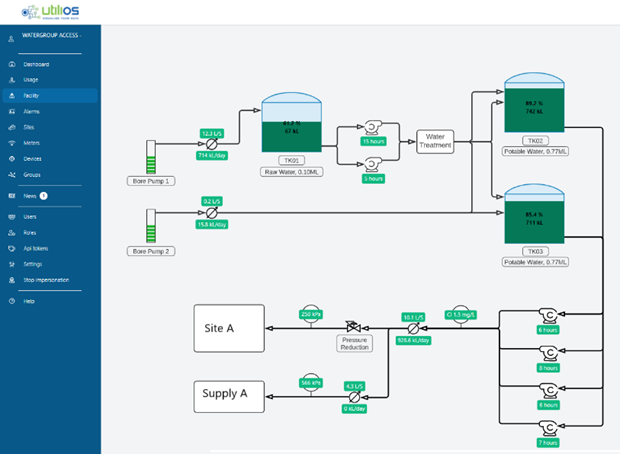 This solution is ideal for small and simple water treatment plants without needing an expensive SCADA system and creates better efficiencies across current asset management practices. It works for larger, more complex sites with multiple sub-meters and related water parameters like tank levels or rainwater harvesting systems. Examples would be Shopping Centres or University Campuses.